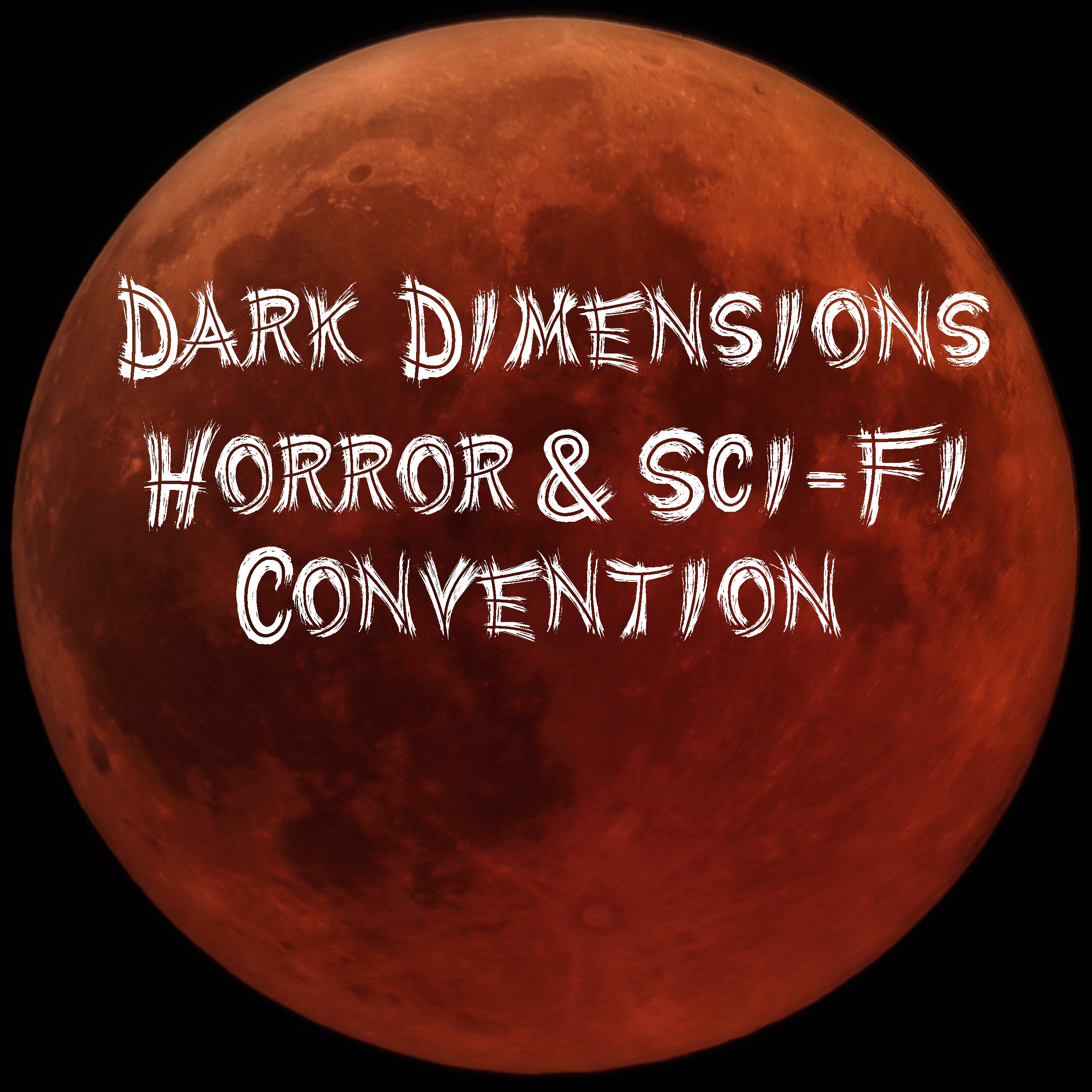 Dark Dimensons is a three day Horror and Science Fiction Convention located in Pennsylvania's Pocono Mountains with side events planned for the Lehigh Valley area of Pennsylvania. Dark Dimensions is the Tri-State area's newest horror and sci-fi convention, it is the sibling convention to SaikouCon Anime Convention and run by the same staff and backing company; Nerdy Rock n' Roller Productions.

Dark Dimensions offers the standard horror con experiences of autographs and photo ops with our celebrity guests and excellent genre specific shopping in our Merchant Zone, but the convention also ups the ante with panels, activities, video games, concerts, costume events, and more to fill your time with us with as much fun and spooky good times as possible.

With heavy hearts we have to announce that Dark Dimensions 2020 has been postponed until 2021. Due to the mandate from the state of Pennsylvania released on July 15, 2020 that all events statewide have been cut back to having no more than 25 people in the face of the massive increase in Covid-19 infections in Pennsylvania since July 1. We've been trying to move forward since the postponement of our sibling convention, SaikouCon, back in July, but this mandate of limitied attendance will not be lifted in time for Dark Dimensions 2020. We are very sorry we have to postpone what was supposed to be our premiere year, but we must to comply with state legislation as well as public safety. Within the next few weeks the resort will be issuing us a new contract for October of 2021 after they have confirmed which of our requested weekends are clear and have no other events at the resort at the same time. To make up for being forced to postpone the 2020 convention so close to what was supposed to be showtime, all pre-registered attendee tickets will roll over to Dark Dimensions 2021 automatically, keep an eye on your inbox for an email with the dates and details on Dark Dimensions 2021. If the weekend we land is not workable for your schedule just let us know and your ticket fee will be refunded, the same offer is being given to our Merchants that purchased tables for Dark Dimensions 2020.
Again, we are truly sorry for this, we had hoped the pandemic would settle enough for us to move forward, but safety is more important, we don't want an actual viral apocalypse to happen at our show or anywhere else. We will see you all in 2021!

Best,
The Staff of Dark Dimensions Horror & Sci-Fi Convention
It is with much sadness that we have to announce that Felissa Rose will no longer be joining Dark Dimensions 2020. With so many other conventions being forced to cancel or at postpone their shows this year due to the novel coronavirus Covid-19 pandemic, there are starting to be overlap dates and double bookings that were not an issue earlier in the year. One such double booking has now happened with Felissa's schedule on our weekend, and unfortunately, our contract is the one that could not be honored.
As it stands right now, Dark Dimensions 2020 is still moving forward, we are finally getting negotiations with other guest stars moving again now that it is looking all but certain that Pennsylvania will be fully open for non-essential businesses and entertainment events by September. The staff of Dark Dimensions apologies for the radio silence, barring some social media posts, but this has been the first news we've had since before the pandemic lockdown went into effect. Negotiations we had in motion and a few bookings we were ready to announce dissolved because of the lockdown and uncertainty for the rest of the year for conventions across the board.
We are remaining positive that we will all be partying together at the first (of many) Dark Dimensions Horror & Sci-Fi Conventions this year with a great guest list to kick off this crazy ride.
In the next few weeks our rules and regulations for attendee, merchant, and staff conduct for safety and hygiene at Dark Dimensions will be updated to reflect the new environment we alllive in now for social interaction, keep an eye for the update and for new guest announcements before May is out and then full steam ahead in June forward. Don't forget, our Panel Submissions are still open; get submitting! We want to craft the best horror con programming on the East Coast! And merchants, we still have limited space in our Merchant Zone, head to the Merchants page for details on selling with us and grab you space before they're gone!

Best,
Mike Meade
Con Chair
It's 12:01 AM ET on Valentine's Day, you know what that means... it's time for our Two Ghouls for One Valentine's Day VIP Ticket BOGO Sale! Head over to the Tickets page here on DarkDimensionscon.com, and grab two VIP Tickets to attend Dark Dimensions 2020 for the price of one! 24 hours only, starting at 12:01 AM ET on February 14 and ending at 12:01 AM ET on February 15, when you purchase one VIP Ticket to attend Dark Dimensions 2020 (any version: 3 Day, 2 Day, 1 Day, Adult, Teen) you automatically receive a second VIP Ticket for FREE!!! Valentine's special applies to VIP Tickets ONLY. No coupon codes, no extra steps, you just get an extra badge for every VIP Ticket purchased! Buy one get one free, buy two get two free, and so on! It's even better than our Group Rate (details on Group Rates on the bottom of the Tickets page). And remember, your extra Ticket will not show up in your shopping cart, one year for SaikouCon (we run the same Valentine's VIP BOGO for SaikouCon tickets) we tried to adjust our PayPal shopping cart to show the free badge, and all of our Add to Cart buttons deleted so we do the work on our side. Your Registration Confirmation messages, sent between 12 and 72 hours after your purchase (our con chair writes each one out himself, that part of our system is not automated) will show your free Ticket(s). Happy Valentine's Day from the Dark Dimensions Crew to you!
We also have some important news for Merchants, an application and jurying process was originally planned for this year, but since it is our first year, and we have received several requests to forego a jurying process because of that, after much debate among our executive staff, we have decided to accommodate that request for 2020 and will revisit possibly jurying our Merchant Zone in future years. 2020 Merchant Registration opened November 1, 2019 at 12 PM ET and will close on April 30, 2020 at 12 AM ET or when all available spaces are filled. Visit the Merchants page for the new details for merchanting with Dark Dimensions!
Dark Dimensions is proud to announce our next guest for 2020, author Stan Konopka! Stan is the creator of indie graphic novel hit, The Rejected! The Rejected published by the fastest growing independent comic book publisher in the industry, SOURCE POINT PRESS, recently closed the pre-order period for The Rejected Volume III, "Long Is The Way"; be on the look out for its release later this spring.

Stan has taken part in many conventions across the US over the past few years, and we are happy he is able to make the time to appear at Dark Dimensions 2020 as his con schedule for 2020 is rapidly filling, and as of this announcement may be full up. A big welcome to Stan, we hope you enjoy the experience at Dark Dimensions!

Check out our Guests page for more info on Stan and his creation, The Rejected!
Announcing our Valentine's Day Two Ghouls for One VIP Ticket BOGO Sale! 24 hours only, 12:01 AM February 14 until 12:01 AM February 15, 2020. Get in on the action, our VIP Tickets are the only way to get into our exclusive VIP Wineand Cheese Meet and Greet* with our 2020 Guest Stars taking place on Saturday, September 26 at 7 PM during our Saturday programming. Full details on the sale are listed on our Events page, and full details on our VIP Tickets are on the Registration page.





Also, check back here and on our social media profiles tomorrow, February 4, at 2 PM ET for our next Guest Announcement! More guest announcements are on the way throughout February! Keep your eyes peeled to this page for those announcements and some programming announcements as well...
* - Sparkling Grape Juice will also be served for those under the age of 21 and for those that do not partake alcohol
We are happy to announce our first Guest Star for Dark Dimensions 2020, star of the cult slasher hit Sleepaway Camp, Felissa Rose! Felissa has since accrued well over 100 roles in her career, as stated above, she made her film debut as Angela Baker in Robert Kiltzik's cult film Sleepaway Camp (1983), a role Felissa reprised in the 2008 sequel Return to Sleepaway Camp. A few major credits include The Perfect House (2012), Silent Night, Zombie Night (2009), Camp Dread (2014), Death House (2018), and Victor Crowley (2018). In 2016, she produced several music videos for legendary metal band Slayer!

We at Dark Dimensions are incredibly excited to have Felissa with us for our debut year, we hope you are too! Get ready to meet one of the imfamous Angel of Death at Dark Dimensions 2020! Felissa will be granting autographs at her booth with us, photo op information will be announced a little later in the year. Felissa will also be presenting a few panels/Q&As over the course of our 2020 programming, details will be released later in the year as our programming block is further built and finalized!
Panel submissions for Dark Dimensions and Volunteer Applications are both now open! We apologies for it being a little over a month late from the previously announced date, something went wrong on the web host's dev end of the website and much of it needed to be recreated or reworked by us (if you follow our other con, SaikouCon Anime Convention, it has happened before on saikoucon.com). Panel Submission form can be found on the Panels page and the Volunteer Application form can be found on the Volunteers page.



Please review details, rules, and guidelines for both aspects of Dark Dimensions 2020 before submitting Panels and/or applying to be Volunteer Staff. Panel Submissions will now be open until July 3, 2020 at 12 AM ET and Volunteer Applications will be open until July 31, 2020 at 12 AM ET.

Coming before January is out, we will be announcing our first Guest Star for Dark Dimensions 2020! Stay tuned!!! She's quite the Angel...
Our Cyber Monday General Admission Ticket BOGO Sale is now closed! Thank you to everyone that bought their tickets through the sale, welcome to Dark Dimensions 2020! You'll all be receiving your registration confirmation emails later today, power has been on and off all day at the con lair with the snow and ice storm that hit a lot of the Pocono area up into New York State and over into New Jersey. Stay safe out there and enjoy the kick off to the holiday season!
Also, with the power outages we haven't been able to open up panel submissions and volunteer applications, they will be opening later today as well, to be safe let's say 2 PM instead of the usual 12 PM we aim for with announcements both with Dark Dimensions and SaikouCon.
Our Cyber Monday General Admission Ticket BOGO Sale is on! You have until 12:01 AM on December 3, 2019 to double your tickets for the price of one! For every General Admission Ticket (one day, two day, or three day) you purchase, you get one free! Just remember, the PayPal Shopping Cart we use to process Advance Ticket purchases will not show the second ticket, all registration file adjustments are done on our side, your Registration Confirmation email, received within 12-72 hours following Advance Ticket purchase (registration confirmation messages are not automated, each one is sent personally by the convention chair), will show your additional free Tickets. Advance Tickets may be purchased on our Tickets page.


Thank you for being part of Dark Dimensions, without you there wouldn't be a show. Don't fret, those of you wanting VIP Tickets for Dark Dimensions 2020, you'll be getting your chance at BOGO craziness on Valentine's Day...
Don't worry, our first round of Guest Star announcements will be coming before the New Year arrives. We're sorry it's taking a little longer than anticipated, but with the holidays upon us contract negotiations hit the breaks here and there. We promise this is going to be one hell of a debut show though. Stay tuned...
Our Merchant Zone Applications are now open on the Merchants page! Please read and review all of our rules, regulations, and guidelines before applying, we know it's a long read but our goal is to make our Merchant Zone the best vendor experience for Merchants and for Attendees! Merchant Zone applications will close on February 8, 2020 at 12 AM ET. Applications will be previewed as they are submitted, exceptional merchants and merchants of special interest may be approved before the application deadline; those approved early will receive notice and merchant registration invoice as they are approved and are subject to the same 5 business day deadline from date of issue on their registration invoice as those juried and approved after the application deadline.
And don't forget, tomorrow, November 1, our Merchant Zone applications open! For the full details, rules and regulations etc. for vending at Dark Dimensions 2020; visit the Merchants page here on darkdimensionscon.com! Guest announcements will be here soon too, keep your eyes peeled to this page and our social media for the news when we can break it!
After many years of searching for a venue willing to work with a horror centered convention, we have finally found a home at the Mountain Laurel Resort & Spa located at 81 Treetops Drive, White Haven, PA 18661! Our first show will take place on September 25, 26, and 27 of 2020, Advance Tickets are on sale now and our block of rooms at Mountain Laurel with a special rate for Dark Dimensions attendees and merchants is now open! Visit the Tickets and Convention Info pages respectively here on DarkDimensionsCon.com for the information; Merchant applications will open on November 1, 2019. Guest announcements will be coming before October is out with more on the way in November through the New Year!